(Guyana Chronicle) A COMPREHENSIVE package inclusive of salary increases and housing benefits will soon be rolled out for educators across the country, President Dr. Irfaan Ali announced on Wednesday.
The Head-of-State made the announcement during a visit to the Beterverwagting secondary school, where he engaged several teachers and students.
"We are working towards a comprehensive package for the improvement of your lives. Your lives are not only worth salaries; it is a comprehensive package that must be able to give you good sustainable housing [and] allow you to provide for your children to have a great opportunity," President Ali said.
Acknowledging the hard work of teachers across the country, the president reiterated the government's commitment to improving their lives.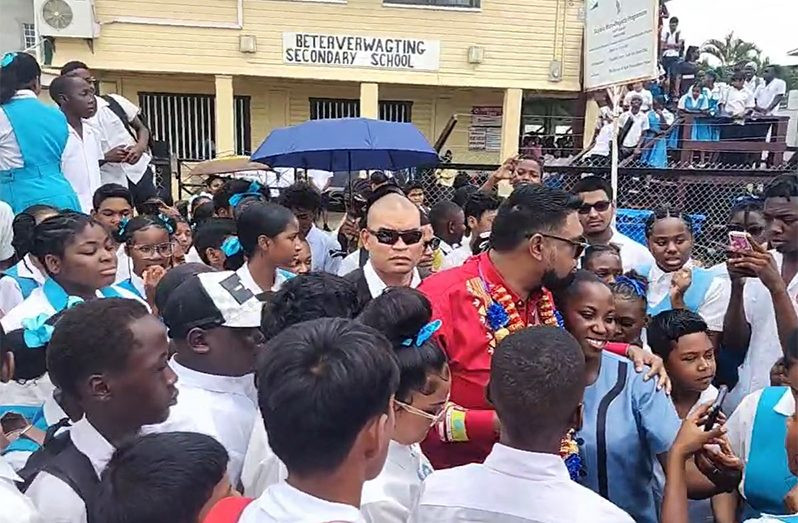 "I want to thank all the teachers for their tremendous work that they do every day."
The president also committed to addressing a number of issues that were raised by the teachers and students at the Beterverwagting school.
Last December, President Ali announced that several categories of public servants would get salary increases and assured teachers that their increases were guaranteed.
At a recent press conference, Vice President, Dr. Bharrat Jadgeo said that the administration is looking at educators' salaries holistically to fix the "anomalies that were there for a while."
"What we are thinking about is that we want our teachers to be trained. So, we are moving to get all of our teachers trained. And then there should be salary gradation based on years, in-service…and also on qualification," Dr. Jadgeo said.
For example, the Vice President explained that if a teacher makes an effort to get a Master's Degree, his/her salary must reflect same and not on the same level as a teacher with a First Degree.
"So, we are still looking at that. We have done it for the other sectors and a couple of other areas in government, the health sector, a couple of areas where we are looking at this same issue…The agenda is heavy, but it is something that is actively engaging the agenda of the government," he added.
The government is currently engaging the Guyana Teachers' Union (GTU) on the matter.
The salary scale of health workers has been addressed, resulting in over 5,000 people benefitting from a disposable income of over $1.5 billion annually.
Additionally, ranks of the Guyana Police Force, Guyana Fire Service, and Guyana Defence Force have benefitted from a $1 billion annualised salary increase.